Blue Corals Beach Resort is spectacularly located on a rocky outcrop from the sea on the tip of Bounty Beach. All rooms of the hotel have a fantastic view over the beach and the clear blue sea. The bungalows are located right at the beach.
The hotel has 29 rooms, 12 of which are air-conditioned. In addition, Blue Corals Beach Resort offers private 8 bungalows, 6 of which with A/C. All accommodations have their own toilet, hot shower and (except standard rooms) balcony or terrace.
The tip of the rock is reserved for the hotel's outdoor bar where guests can enjoy a splendid almost 360 degree view while enjoying their drinks. The sunset view is spectacular!
Malapascua has a lot to offer for relaxers and adventurers alike. Our resort is only a three-minute walk from Thresher Shark Dive Shop. Other diving schools are in the immediate vicinity. But you can also enjoy the beauty of the island's underwater attractions by yourself by just going snorkeling near the hotel. We will be happy to rent you snorkeling gear or to arrange for a boat to take you out.
Dieses Resort, am südlichen Ende des Bounty Beaches auf einem Felsvorsprung gelegen, bietet nicht nur frische Winde zu fast jeder Zeit, es lässt einen auch Sonnenauf- und Sonnenuntergänge beobachten und bietet einen fantastischen Blick auf den Bounty Beach. Eine Bar auf der Felsklippe ist 3-seitig umgeben von den Wellen der Brandung die  je nach Wetterlage von einem leichten Säuseln bis zu wilden Brausen ertönen. Sowohl für ausgesprochene Abenteurer als auch für  Entspannung suchende Urlauber ein Platz zum Träumen und bewussten Erleben.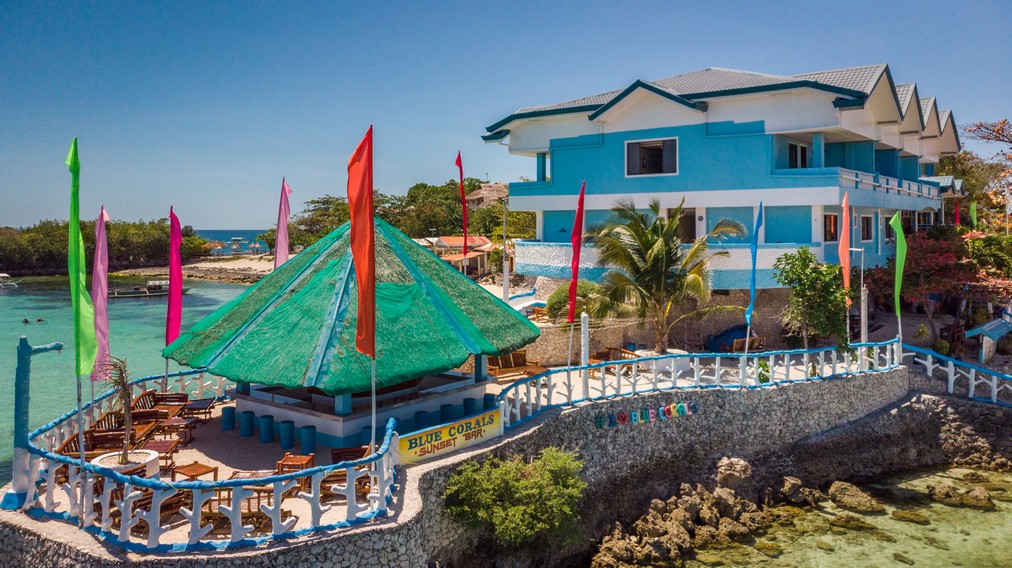 Malapascua is a tiny island, only about 2.5 kilometers long and 1km wide, located across a shallow strait from the northernmost tip of mainland Cebu island. The island is covered by the insular barangay of Logon (part of the Daanbantayan municipality), with eight hamlets.
As a diving destination, Malapascua was "discovered" fairly recently, only in the early 90s. The island was first known for its wide white sand beach, known as Bounty Beach; it has become known for its beautiful coral gardens and excellent dive spots nearby, including Monad Shoal, an underwater plateau where thresher sharks and manta rays can be sighted on a regular basis. To date, this is the only place in the world where divers can reliably sight thresher sharks.